BBB Cycling

Maestro Mips Helm BBB Jack X Manifest Butter Limited Edition
Maestro MIPS 'A place to protect' Limited Edition

A Limited Edition BBB Cycling x Jack the Ultra Cyclist x Manifest Butter (ex prof Taylor Phinney and graphic designer David Roselló) helmet. Limited to 250. International shipment exclusively at Ride O...
Productomschrijving
BBB Cycling Limited Series
Voor de BBB Cycling Limited Series is BBB altijd op zoek naar creatieve en inspirerende fietsers. Zij krijgen de kans om een van de BBB producten eigen te maken met een uniek en kenmerkend ontwerp. Dit is de derde uitgave.
Voor deze Limited Series helm vroeg BBB hun goede vriend Jack Ultra Cyclist iets te bedenken. Maar in plaats van er alleen aan te werken, nodigde hij twee van zijn vrienden uit die hij kent van zijn woonplaats Girona.
Ex-profwielrenner Taylor Phinney en grafisch ontwerper/kunstenaar David Roselló (Manifest Butter) werkten samen met Jack. Ze maakten een ontwerp dat probeert te visualiseren wat er in en rond Jacks hoofd gebeurt. De chaos, het evenwicht in ons hoofd... dat is wat dit ingewikkelde ontwerp vastlegt.
BBB has invited creative cyclists to collaborate on the BBB Cycling Limited Series. They get to make one of our products their own with a one-off, signature design. This is the third release.
For this Limited Series helmet, we asked our good friend Jack Ultra Cyclist to come up with something. But instead of just working on it alone he invited two of his friends who he knows from living in Girona.
Ex-pro cyclist Taylor Phinney and graphic designer/artist David Roselló (Manifest Butter) teamed up with Jack. They created a design that tries to visualize what goes in and around Jack's head. The chaos, the balance inside our head... that's what this intricate design captures.
About the Maestro MIPS
De Maestro MIPS is de tophelm van BBB Cycling. Hij is voorzien van het HaloGuard-ventilatiesysteem voor een optimale luchtstroom bij alle snelheden. De 17 strategisch geplaatste ventilatiegaten geven de helm een open constructie die je hoofd koel houdt tijdens het fietsen. De helm heeft ook een geïntegreerd MIPS-systeem om je hoofd extra te beschermen tegen de draaiende impactkrachten van een valpartij. Deze helm is de beste en meest stijlvolle manier om je hoofd te beschermen.
The Maestro MIPS is our top-of-the-range helmet. It features the HaloGuard ventilation system for optimal airflow at all speeds. Its' 17 strategically placed ventilation holes give the helmet an open construction that keeps your head cool when cycling. The helmet also sports an integrated MIPS system to give your head extra protection against the rotating impact forces of a crash. This helmet is the best and most stylish way to protect your head.
Maatvoering: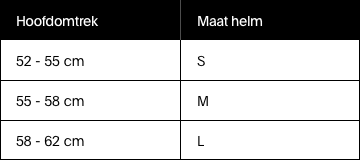 About the project
BBB Cycling;
Jack has been a backyard crew member for quite some time and we have been part of many of his journeys. We also support him on his Space Odyssey where he is aiming to climb 1.000.000 meters in 1 year.This way Jack wants to raise awareness for several mental health charities. Because it is fair to say that cycling saved Jack. He was in a dark place before and not heading in the right direction. But finding this sport through a friend put him back on track.
A place to protect
This helmet design is all about the mind. This chaotic and beautiful place, where all our dreams, fears, ideas and ambitions start. It is "A place to protect". That is what Jack wanted Manifest Butter to capture with their design and that is also the title of the short film we made about it.

To document this special collaboration we met up with Jack, Taylor, David and local enduro rider Pau Llahí. We captured their special connection and visited the creative studio where Manifest Butter operates from. We asked all of them what the mind means to them and how they feel they use and protect theirs. Finally, we joined Jack during one of his Everest-rides and talked about what cycling means to him.

The proceeds of this project will cover race entries, travel expenses, and bike maintenance of several local Catalan Junior and U23 Enduro/DH riders including Pau Llahí who is featured in the film over the past and coming seasons.